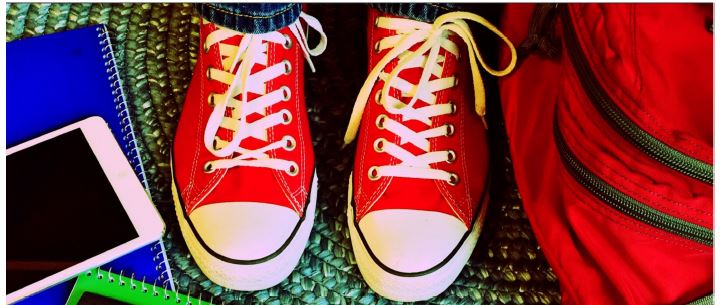 P

roviding

R

esources and

E

ssentials to

P

repare Kids for School
Saturday, August 27, 2022
Our 7th Annual Event! Throughout the years, we've helped over 1,100 students have a great start to their school year.
We provide new sneakers, socks, underwear, and hygiene items (shampoo, soap, washcloth, toothbrush and toothpaste) for kids, a donated age-appropriate book, and community resource information for families.
The event serves kids from grades Pre-K to 12th grade from all school districts of Cortland County.
Preregistration is required. We prepare an individualized bag for each child with their specific size of sneakers, socks and underwear. To allow for adequate time to shop and organize, please register kids online by August 1.
Families need to plan to pick up items at Homer Congregational Church on Saturday, August 27 from 9 am – 12 noon. Children do not need to be present at time of pick up. If transportation is an issue, a friend or family member can pick up on your behalf. However, we are unable to deliver items to you. Please only register if you can reasonably plan to pick up the items.
---
Foot Measuring for Sneaker Sizes
We want to help kids get the right size sneaker! You can visit a local shoe store to have your child's foot measured – or you can do so at home. If you have the ability to print, you can use the sizing guide below. Or watch the video about how to measure your child's foot for sneakers with just a piece of paper and a ruler.
Registration
Registration is required. Please register by August 1. We commit to serving 300 children for our 2022 event. Complete one form per child.
Email is our primary form of communication to families to confirm registration and to send reminders about the event. Please enter your email carefully and check frequently throughout the summer.
Once we reach 300 registrations, we will close regular registration and may begin a waiting list. We will assist children on a waiting list as resources allow.
Sponsor a Child
To sponsor a child, we ask that you commit to purchasing a new pair of sneakers, a new pack of underwear, and a new pack of socks. Sponsors will receive by email or phone the child(ren)'s age, grade, shoe size, underwear size and favorite color.
We will be collecting the items from sponsors Saturdays in August prior to the event (Aug. 6, 13 and 20) from 9 – 11 am. Drive to rear of church, and church members will be outside to collect your bag(s). To ensure enough time for sorting/organizing, please make sure items are delivered to Homer Congregational Church by August 20.
Donate
Want to support PREP with a financial donation – and let us buy the items? Checks, payable to Homer Congregational Church, can be mailed with "Back to School PREP" in the memo line. Or donate online via Tithely and in the notes section, indicate "Back to School PREP." Thank you for your support!
Thank you to our 2022 event supporters!
The Brockway Foundation
The Wilkins Foundation